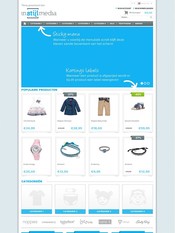 Information
Price: NOK 69,00 / månedlig
Category: Themes
Release date: 07/17/2013
Developer: InStijl Media
_InStijl Media Blue
Description
Features a special function with a countdown timer for your promotions

Designed by Instjil Media


The"InStijl Media Theme" is based on simplicity, but technically filled with many wishes of our existing relationships in the e-commerce environment. The design is customizable to the wishes of the merchant. We of InStijl Media will try to do everything within our powers to make you successful.
Other Lightspeed customers currently using Instijl Media
http://www.golf-aanbieding.nl/en/ 
http://www.mijnklimaatshop.nl/ 
Key features 
Image zoom on products

Slider filters
Fully responsive
Presets
Documentation
Click here for documentation (in dutch).
Contact
Would you like to receive more information about Instijl Media, its possibilities, or tailor made changes? Contact Instijl:
website: http://www.instijlmedia.nl/
e-mail: info@instijlmedia.nl
Images