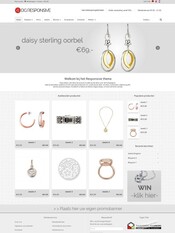 Information
Price:
Category: Themes
Release date: 03/20/2014
Developer: DGSolutions
_DG Bright
Description
Features a special function with a countdown timer for your promotions

Designed by DG Solutions


With this theme, your shop is completely up to date with the newest trends of mobile shopping and optimised for smartphones, tablets, laptops and desktops. On every device (and screensize), the customer will get a perfect display of the shop.
Other Lightspeed customers currently using DG Responsive
http://www.herberslifestyle.nl/ 
Key features 
A sticky menu
Multiple custom banners
An automatically generated sale label
Many adjustable colors
Functional and completely adjustable to your wishes
Presets
Documentation
Click here for documentation.
Change Log
## [1.1.0] - 2016-05-30
### Added
 - Setting a background image is now a possibility.
 - Adding Unique Selling Points is now a possibility.
### Changed
 - Mobile footer links are bigger and easier to tap.
 - HTTPS/HTPP links changed to schemeless URL's
### Fixed
  - Fixed multiple small coding errors (according to W3C)
## [1.0.1] - 2016-05-19
### Fixed
 - Google rich data (price & priceCurrency)
Contact
Would you like to receive more information about DG Responsive, its possibilities, or tailor made changes? Contact DG Solutions:
website: http://www.dgsolutions.nl/
e-mail: info@dgsolutions.nl
Images