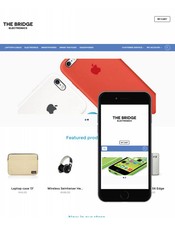 Information
Price: NOK 140,00 / månedlig
Category: Themes
Release date: 05/02/2014
Developer: Brthrs Agency
The Bridge Electronics
Description
"The Bridge Responsive" is the bridge between your products and your customers. Product placement is one of the key points involved in the development of the theme. With large product photos along with a white background, the emphasis is on the products.
Other Lightspeed customers currently using The Bridge Responsive
Key features 
Enable/disable stick navigation manu
Headlines images are full widt and responsive
Added Rich Snippets for SEO
Extra options for products
Lightbox for productimages
Background image and header image are now two different images
Enable disabled small product subtext on productoverview
Set backgroundcolor for all buttons
Enable/Disabled Priceslider
Parallax scrolling header image
Presets
Documentation
Click here for documentation.
Contact
Would you like to receive more information about The Bridge Responsive, its possibilities, or tailor made changes? Contact Brothers Media
website: http://brothersmedia.nl/
e-mail: thebridge@brothersmedia.nl
Images