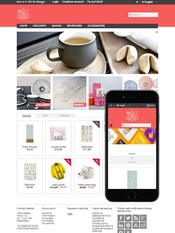 Information
Price: NOK 89,00 / månedlig
Category: Themes
Release date: 09/25/2014
Developer: InStijl Media - Lightspeed Gold Partner
InStijl Media Deluxe Ruby
Description
Check the different InStijl Media Theme Deluxe pre sets Deluxe, Emerald, Sapphire and Ruby for inspiration

Features a special function with a countdown timer for your own promotions

Designed by InStijl Media


The "InStijl Media Theme Deluxe" is created based on a variety of new and luxury features thatarecontinuously developed and technically completed with the many needs of our customers. When purchased, you are able to use the DayDeal Timer to bring extra attention to action products. With the design there are many possibilities to adapt the theme to what the web owner wants. With this you can adjust colors, fonts and all images to a result you desire.
Other Lightspeed customers currently using InStijl Media Theme Deluxe 
http://www.scootmobieleasy.nl/nl/ 
http://www.deurmat-bestellen.nl/ 
http://www.delaarzengigant.nl/ 
The above webshops are partially processed at the request of the customer. 
Would you like us to customize your shop to your own needs ? Contact info@instijlmedia.nl.  
Key features 
DailyDeal Timer
Tabs on the homepage to highlight products
Mega menu with category images and subsub menu
Integrated LoyaltyLion app
Discount corners of sale, sold-out, new, best seller
Products collection page roll-over
Sticky menu
Social media roll-over buttons
YouTube videos by product
Adaptable headers collection page
Presets
Documentation
Click here for documentation.
Contact
Would you like to receive more information about InStijl Media Theme Deluxe , its possibilities, or tailor made changes? Contact InStijl Media:
website: http://www.instijlmedia.nl/
e-mail: info@instijlmedia.nl
Changelog Deluxe 1.1
-       Translations updated and improved
-       Updated to the current German legislation
-       Design > Settings translation errors removed
-       CSS optimized
-       javascript optimized
-       Speed Test and google test conducted
Images